American Graffiti Night | American Dream Machines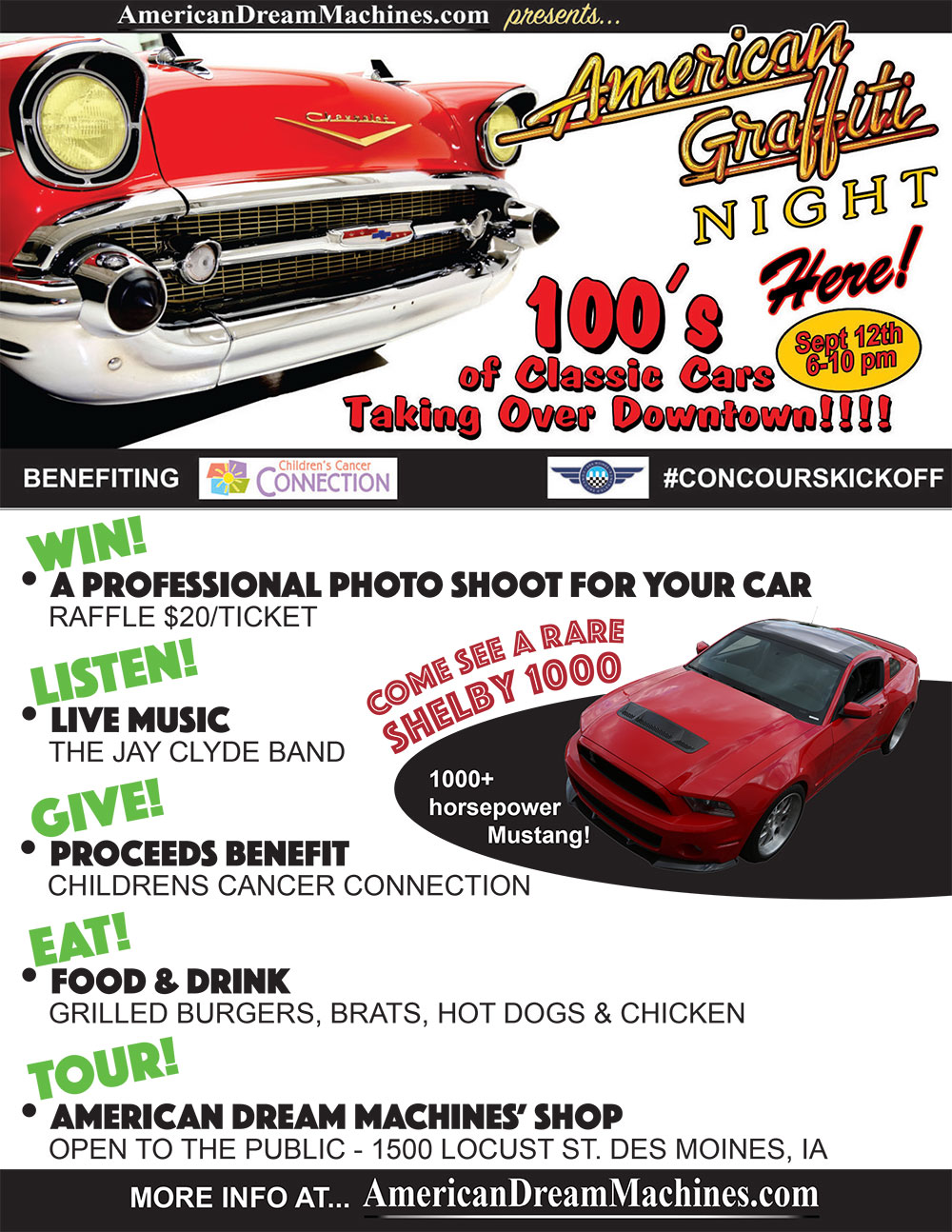 American Graffiti Night is here!
Calling on all car clubs and anyone with a love for machines on wheels.
Here is one of the better car events of the fall brought to you by American Dream Machines and we want every one of you to help us make it epic. Tell every car lover you know and your neighbors to come down to American Dream Machines on September 12th from 6pm to 10pm.
The flyer states all of the major points of the event and we will be offering classic car parking only in our parking lot (for a donation). Spots will fill up fast so if you want to be parked right were the event is taking place then get here as soon as you can. We will work a group rate to park in the VIP area so pool your money with your club and friends to get into the VIP parking area before it fills up (spots will be offered as they reopen too). We want 1000 Classic cars scooping the loop down town Des Moines and filling the streets, join us in showing support and help us raise money for a great cause. Childrens Cancer Connection is the benefactor of the event as stated on the flyer. There are a number of different ways in which you can contribute to this night and ensure CCC continues to serve the needs of children and their families effected by Cancer. The Raffle, donations, and even when you buy something to eat and drink that night will go towards CCC.
Along with Concours delegances free exclusive show Sunday which also benefits Childrens Cancer Connection (where 140 plus cars and motorcycles will fill the streets) our event is meant to be a kick-off for the fundraising weekend to raise as much money for Childrens Cancer Connection as we can. #concourskickoff
WIN a chance to put your classic car in our photo room. You cannot get better photos of your car than a room made for just taking pictures of cars. We turn down people from all over on a weekly basis to get their cars inside our booth. The BEST OF SHOW for Concours delegance will get its own private shoot just after its awarded at the show. This is once in a life time chance to make your vehicle look stunning. Give this winning ticket to a family member, a close friend, the older person down the street with a sweet ride. The images will be shot digitally with a Canon 5D mkIII which means the images will be crisp and huge! Make a wall size poster of your ride for your garage or a slightly smaller one to hang over old family photos in your house. Do with the images as you please. $20 per ticket with no limit on the number of tickets you buy. All proceeds go to CCC.
FOOD We are grilling out burgers, chicken, Brats, hot-dogs the way it should be. There will be 4 choices of beer available along with water and pop.
Our goal is to help Concours delegance raise awareness/funds for Childrens Cancer Connection and kick the weekend off with a little fun. We will have our doors open for everyone to look around and this is your second and only chance to get back to see our shop (unless you are buying a car). Join us for our version of AMERICAN GRAFFITI NIGHT.
Email us back with any questions/concerns and we will get back to you promptly.
Proceeds going to https://www.childrenscancerconnection.org/
Sundays event put on by https://www.desmoinesconcours.com/